i had a glorious weekend.
on friday ilmari and i went to see
for love's sake
which i can't recommend to anyone but i still partially loved and as a concept i can hardly think of anything i'd love more.
on saturday we hung around and went to visit my mom and brother and then went to see this estonian film called
mushrooming
, which was brilliant, and then went to this bar, helsinki underground, which was a complete mess in a good way.
on sunday we played hours of video games and then went to see
upstream color
, which i liked a lot, too.
yesterday was a bad day, i was really tired and went to work and soon got a terrible migraine and had to come home and lay in the dark and it felt like my eyes would pop out.
today i've got a nine hour evening shift so i ain't doing nothinnn but tomorrow i'm having a day off so i'm going to see
tavarataivas
by myself which i've wanted to see for a long time already but haven't gotten around to do yet.
otherwise, i've received some "dope" stuff in the mail.
first and foremost, leopard hellbounds.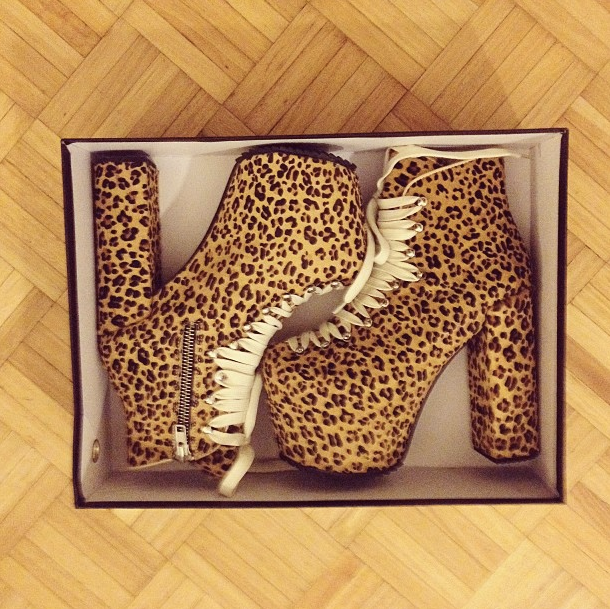 they're super nice.
and second, a cat clutch. this is just beyond awesome, i'll have to post some lame outfit pic just so you can see how brill it is in action.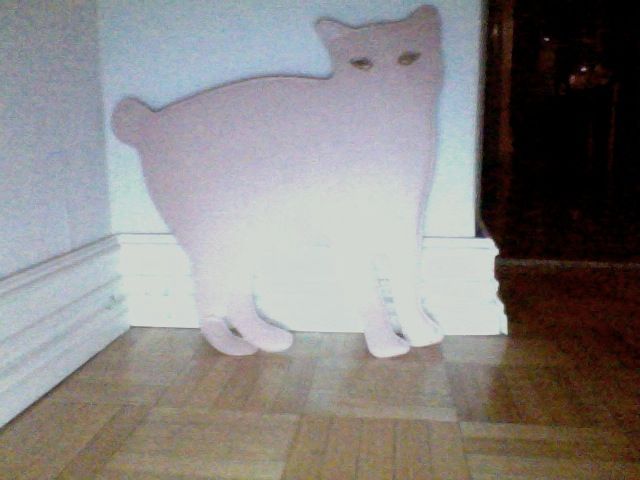 lol these pix are so bad lol lol lol i'll take glorious pix one day i swear. this was purposefully bad tho u guys
then ilmari made me a shoe shelf because my shoes are too big and there's too many of them for any store bought solution (actually he just put it up, i bought it and all but i like the 50s feel of the previous sentence, so)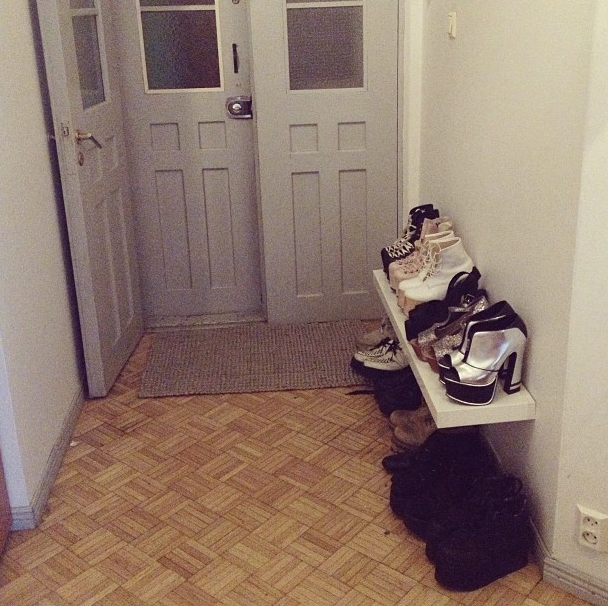 my neo boots and some other stuff are still somewhere on the way but i hope to get them before the end of the month.
How would you describe your style?
junkie goth cyber babe jersey magic girl-kei
Who is your fashion role model?
the late daul kim, cyber goths, post punk bands,
What are you wardrobe staples?
dresses, big shoes, big coats, silly bags
Most expensive item in your closet?
i don't know, i don't think i own very expensive clothes rly. i have a few somewhat pricey shoes, hellbounds for example
Most wanted item?
currently, minkpink farshion coat
Favorite Designer?
alexander mcqueen 4shou
How much do you spend on clothes?
probably between 100€-500€ a month. shiit :T
What are your favorite places to shop?
irl h&m, weekday and zara. i should visit that one store, empire, that sells unif and stuff more often to support it, but it's just so far awayyyyy (no it's not, i've just become so incredibly lazy to leave the very core of helsinki nowadays). online dolls kill, nasty gal, yayer.
Favorite fragrance?
still trying to decide between couture couture by juicy couture and the basic lolita lempicka one
Whats your favorite way to do your hair?
nothing, i'm just happy if it doesn't look like a melted nest
What is your go-to outfit when you have no idea what to wear?
comfortable, all black; skater skirt or dress with cropped knit or top over and yru platforms
Piercings:
nape, nipple and tongue. thinking of getting rid of the tongue one, it never shows and it looks a bit silly on me
Tattoos:
nope, tattoos bore me to death
Boyfriend/Girlfriend:
what about it?
Overused Phrase:
oh god...
Animal:
giraffes, aye-aye, birds and especially peacocks
Drink:
cherry coke zero!!! ugh
Tv show:
hannah montana, pretty little liars, breaking bad, anything gordon ramsay, arrested development, happy endings, don't trust the bitch in apartment 23, hana yori dango, neon genesis evangelion, upotte
Movie:
lost in translation, love exposure
Actor/Actress:
jennifer lawrence, tom cruise and christian bale just because i mean how could he not
Pepsi or Coke:
coke but i think pepsi max is good too
Mc Donalds or Burger King:
i'm gonna go with mcdonald's bc it's been such a long time since i've had burger king so i wouldn't remeber correctly
Kiss or Hug:
both :I
Dog or Cat:
dog
Rap or Punk:
i really enjoy both, currently i'm listening more to rap tho
Summer or Winter:
summer, because of the light
Scary Movies or Funny Movies:
both, combos work too
Love or Money:
love
Want to go to College:
nah
Do you Smoke:
i might bum a cigarette once every two weeks, so i've basically quit
here's moi from two weeks ago
ta-dah
i'm abt to b late for work ick